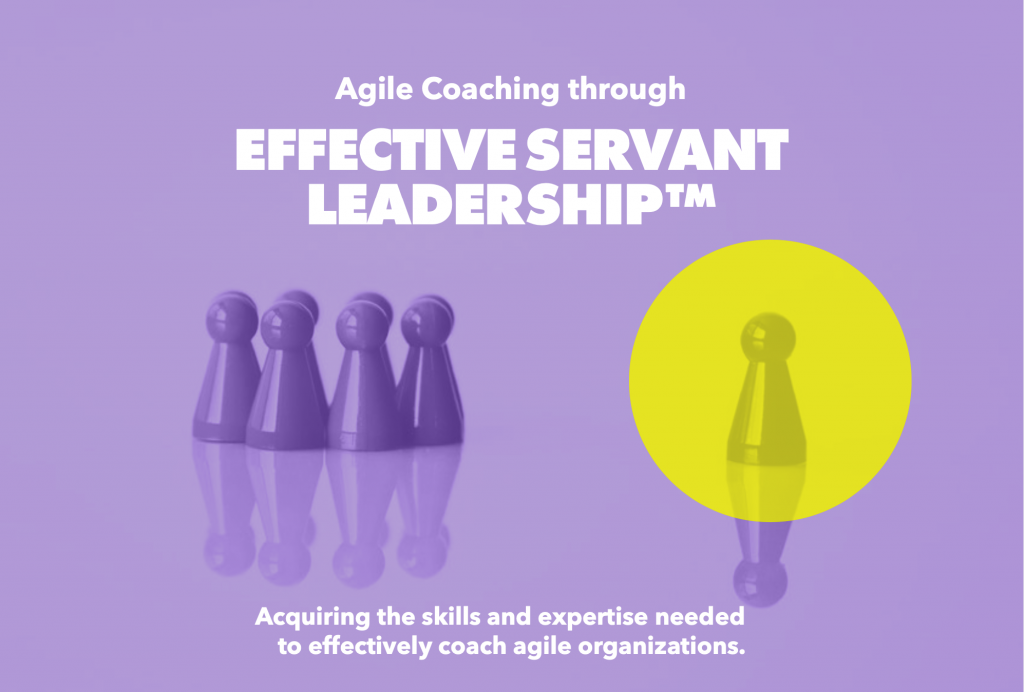 Introduction
Take a minute to ask yourself:
Are you looking for a unique, thorough and in-depth Agile coaching course at the post-bachelor level?
Do you want to become a professional and inspiring coach that makes an impactful difference in the personal growth and development of people, organizations and products?
Are you prepared to undergo an enriching personal coaching transformation, that greatly broadens and increases your impact as a coach?
Are you keen to broaden your understanding about the soft and hard aspects of agile coaching?
If the above applies to you, the Effective Servant Leadership (ESL) training is exactly what you need.
Enter your email address below to receive the course brochure.
Why this training is not like any other
Agile Coaches, Scrum Masters and managers of agile organizations need a wide range of very specific skills. Although Scrum and Agile nowadays are adopted in more than 97% of the organizations worldwide, there is no training especially tailored to learn the work we do.
Servant leaders in agile organizations are "five-legged sheep", experts in implementing processes, initiating change, teaching principles, facilitating workshops and coaching people. Existing training focuses on understanding agile frameworks, facilitation skills and possibly teach a theoretical approach to leading change. What we lack is training where we can learn and practice our abilities to work with people. After all and above all, our work is people-centric: we need to move and motivate people, feel and support them, open them up for change and growth. Effective Servant Leadership covers the combination of hard- and soft skills you need to make you more effective in your workplace.
Which coaching approach is taught in the ESL?
The coaching approach taught in ESL is based on the Solution-focused (brief) therapy (SFBT) that was created by Steve de Shazer and his wife Insoo Kim Berg in 1978. SFBT is a goal-directed collaborative approach to psychotherapeutic change that is conducted through direct observation of clients' responses to questions. SFBT focuses on addressing what clients want to achieve without exploring the history and provenance of the problem(s).
What you will learn
After completing the ESL training, you have gained experience and learned many facets of the agile coaching profession. In concrete:
You will have discovered and developed your own coaching style.
You master various coaching techniques and know how to use them at different levels (personal, team, organization, product).
You increased your impact as an agile coach because you learned to consciously use yourself as a coaching tool.
You know how to ask powerful questions.
You learned and practised positive coaching conversations to guide change processes and to improve the functioning of people.
You are able to effectively deal with resistance, manage conflict and reach consensus.
You know how to successfully coach (senior) management and leadership teams.
You are aware of your personal qualities and pitfalls in coaching.
You have practised and experienced coaching techniques that produce observable changes within days.
You have improved your soft skills.
You understand what systemic coaching is and know how to apply it to create long-lasting change.
You have a clear picture of agile organizational design principles and methods.
You have acquired a clear approach to guide agile transitions.
You understand how to apply neuroscience to improve the effectiveness of your teaching.
You know how to create and facilitate interactive workshops.
You know how to support teams in various stages of their maturity.
You master techniques for coaching and supporting product development.
Areas of expertise covered and practiced in ESL
Effective Servant Leadership contains a powerful mix of the various types of expertise we need as agile coaches, scrum masters and agile managers.
You will improve your ability to:

Learn
Coach
Transform
Facilitate
Mentor
Teach
You will learn how to coach:

Yourself
Individuals
Teams
Organizations
Product
Time is allocated to subjects and areas as follows:
Training schedule and Pricing
The duration of Effective Servant Leadership training is four days, spread over four consecutive weeks, one day per week. This format allows you to practise the acquired skills at work.
Contact me personally to request training dates and locations: roland@dcme.nu, or +316 12983095
---
Is ESL the right training for you?
The ESL training will help you in reaching goals like these:
You feel uncomfortable when you are confronted with strong emotions like resistance.
You experience how difficult it can be to get everybody on the same page.
You know how difficult mediation in conflicts can be.
Your team (s) take little initiative and you don't know how to motivate them.
You would like changes to happen faster than they do.
You find it difficult to pop a powerful question, especially when you are under pressure.
You use your intuition and intelligence to train and coach people and you are unsure if that's good.
You would like to learn how to apply systems thinking.
You would like to learn more about (your inner) psychology.
You implement changes, but they do not have a long-lasting impact.
You would like to improve your soft skills.
Training overview
Effective Servant Leadership training contains 8 modules:
Module 1: Fundamentals of coaching
Module 2: Discovering the coach "self"
Module 3: Solution-oriented coaching I: individuals
Module 4: Agile organizational design and transformation
Module 5: Communicating emotions and beliefs
Module 6: Solution-oriented coaching II: teams & organizations
Module 7: Coaching Leadership and Product Development
Module 8: Transfer to new coaching behaviour
The modules of Effective Servant Leadership training are delivered in four days, spread over four consecutive weeks, one day per week. This format allows you to practice the acquired skills at work.
Entry criteria
This course is not for everybody.
We regret that we cannot admit everyone to the ESL training. We feel it is important to allow only motivated and experienced people to the training. We require 100% focus and 100% commitment from the attendees. A selection procedure consists of choosing only those who are open to being coached and open to inner change.
In order to participate, you must meet the following criteria:
You need to attend an intake interview.
You have passed at least PSM-1, PSPO-1 or CSM, CSPO (or higher).
You have a bachelor or master degree/ working and thinking level and at least ten years of working experience.
You have at least five years of experience in the role of scrum master, agile coach or agile management.
You are willing to work intensively and purposefully on your personal development and you are willing to undergo personal coaching.
When you are under personal pressure or stress, you are advised not to participate in the training.
Each participant describes personal learning objectives in a Personal Development Plan (PDP).
Your personal learning objectives are taken into account for program admittance.
Your PDP contains (at least) 4 practical situations/challenges you want to improve.
Download brochure
Enter your email address below to receive the course brochure.